How to Upload Grades from Excel to Grade Center
Grade Center needs your Excel sheet to have certain characteristics in order to upload properly. It is strongly recommended you download your gradebook from Blackboard Grade Center.  See this tutorial How to Download Grade Center to Excel
By default the Tab is selected in the "Delimiter Type." So, the downloaded file is .xls. When opening the .xls file, it shows a warning message "The file format and extension of 'xxxxxx.xls" does not match…… Do you want to open it anyway?" Select Yes.
Then, use the downloaded file to create new columns and enter grades. This allows you to retain the student's Username column. You cannot upload a file to Grade Center without Username column.  You also need to name all columns you are uploading into Grade Center. The Grade Center will not upload columns that do not have a column name.  Once you have the information you want to upload entered in the Excel file, click Save.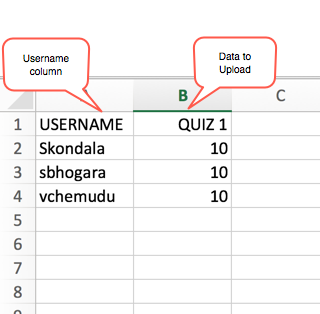 Note:  If you created a new Excel worksheet, you need to copy the Username column into the worksheet.  When you save, you need to save the file in .txt or .csv format.  You may receive several pop-up windows warning about compatibility issues. Click Yes to close all pop-up windows.
1. Login to Bb course.  Click Grade Center > Full Grade Center.
2. Click Work Offline > Upload.
3. Select your Delimiter Type.
Note: If you originally downloaded the file from Grade Center, you can leave the Delimiter Type as Auto. If you created a new worksheet to upload, you will need to select .txt or .csv as appropriate.
4. Click Browse My Computer.
5. Find the xls or .txt or .csv file you want to upload according to the file format you save.  Then, click Open.
6. Click Submit.
7. The Upload Grades Confirmation displays. Click Submit.
8. The new column is added to Grade Center.