How to Upload Multiple Files to Content Collection
Currently, you can't upload multiple files into Content Collection using "Multiple Files" tab because most of popular browsers removed or stopped supporting Netscape Plugin Application Programming Interface (NPAPI) plugin.  However, there are 2 workarounds.
Option I.  Uploading Zip file
Zip all needed files.  In the Control Panel, click "Content Collection."
Click on your course.
Choose "Create Folder" you want to upload the zip file.  Enter a name and click "Submit."
Select the folder you just created.  Click the Upload to show the drop-down menu and select Upload Zip Package.
Select "Browser My Computer" to find the zip file.
Click "Submit."
The zip file is unzipped automatically, and all files are shown inside the folder.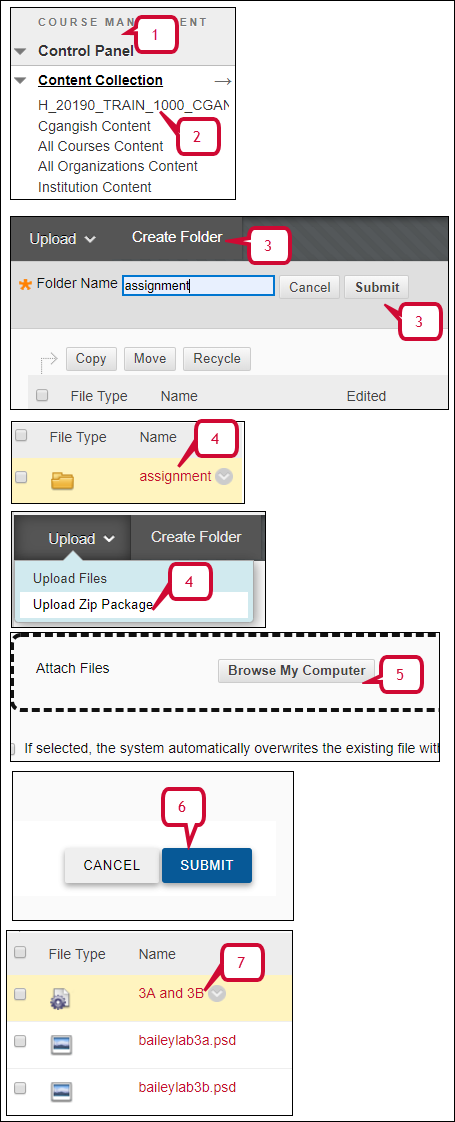 Option II.  Using WebDAV
When WebDAV, or a web folder, is set up, all of your course files can be managed from your desktop, dragging in content from multiple drives and folders and organizing it as needed. Also, files can often be edited directly in the web folder, without downloading them, editing them, and uploading them again.