How to Check for Unread Discussion Posts
There are two ways to check for unread discussion posts.  One way is to see new Discussion posts across courses in the Global Navigation area.  The other way is to new Discussion posts in the individual course.
Option I:  Global Navigation – across Courses
From the Blackboard entry page, click arrow next to your name in the top right corner of the screen.
Click the Posts icon.
Any new discussion posts display on screen. You can reply to posts directly and sort posts to see those that are most relevant for you.
Note:  Students will be able to use this Global Navigation as well, but will only see discussion posts to which they have access.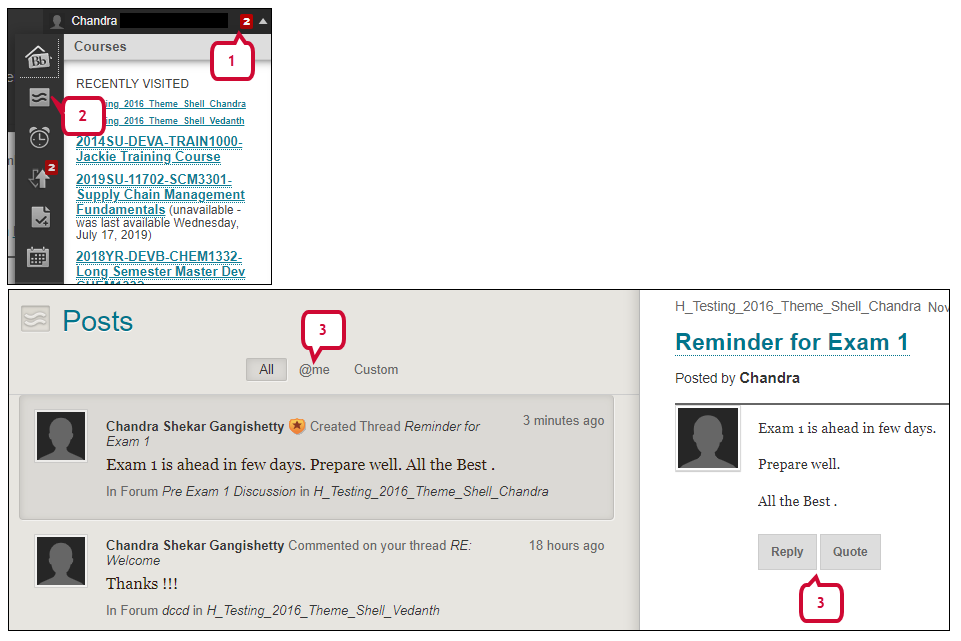 Option II:  Discussion Board- Individual Course
In the "Course Menu," click on Discussions link.
Click the name of the Forum to enter.
Threads containing unread posts will appear in bold with the information of number of Total Posts, Unread Posts, Unread Replied to Me, and Total participants.
To access the unread posts, click the red oval.
After reading all posts, click ALL link to select all posts.   In the "Mark" button, select Read.
Click OK to go back Discussion Board.