How to Create a Multiple-Choice Test in Blackboard
Most likely, you will use a test generating software to create your exam, e.g., Respondus, but for short exams, you can create them directly in Blackboard.
Part I : Creating a Test
1. From any content page, click Assessments tab.
2. From the drop down menu, choose Test.
3. To create a new test, click Create.
4.  In "Test Information" page, enter Name, Description, and Instructions. Then, click Submit.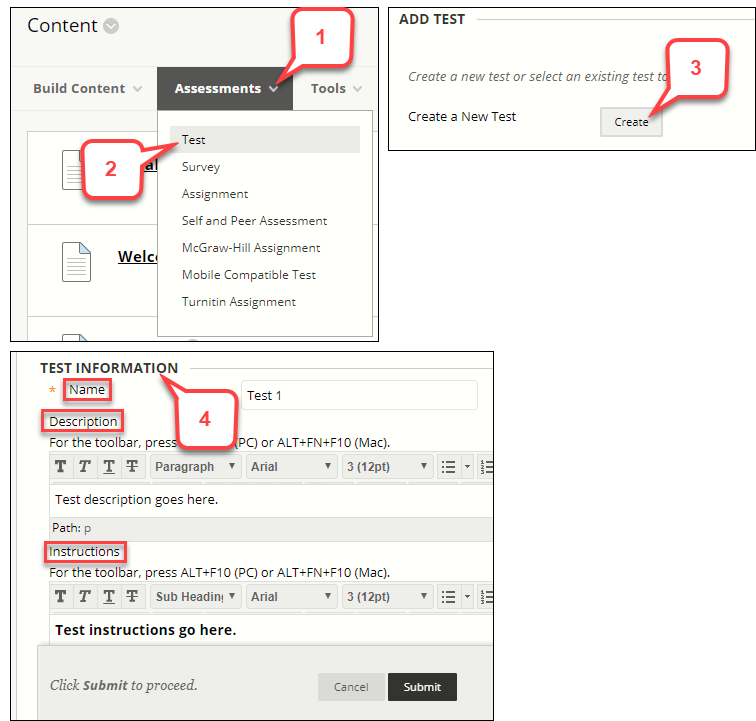 Part II : Adding questions to the Test Canvas
After entering the test information, the Test Canvas page appears, displaying the test name, description, and instructions.
Click Create Question.
From the drop down menu, choose the type of question you want to add, i.e., Multiple Choice.
In the "Question" section, enter Question title and Question Text.
In the "Options" section, choose an option for Answer Numbering, Answer Orientation, and Allow Partial Credit.
In the "Answers" section, select the number of answer options, enter text for each option, and select the correct answer.
In the "Feedback" section, add any feedback for the correct/ incorrect answers (optional.)
If you don't have more questions to create, click Submit.  Otherwise, Submit and Create Another.
When you have finished adding all necessary questions, click OK.
The newly created test is shown in the "Adding an Existing Test" filed.  Click Submit.
Part III : Deploying the Test
In "Test Information" section, enter the content Link Description and select Yes to open test in new window.
In "Test Availability" section, select the options you desired.
Note: DO NOT check the box for Force Completion.  Because anything is wrong with the browser or computer and students get exit, they can't go back to complete i
In "Text Availability Exceptions" section, you only use it if you want to use exceptions can apply to individual students or groups of students.
In "Due Date" section, enter the due date.  Select the checkbox "Do not allow students to start the Test if the due date has passed" if desired
In "Show Test Results and Feedback to Students" section, select the options you desired.
In "Test Presentation" section, select the options you desired.
Once all settings are determined, select Submit.  The test is deployed in the Course Content and and a corresponding Grade Center column is created.