How to Setup an Exam with Respondus Monitor and LockDown Browser
LockDown Browser is a custom browser that locks down the testing environment in Blackboard. When students use LockDown Browser to take a Blackboard exam, they are unable to print, copy, go to other websites, access other applications, or close an exam until it is submitted for grading.
Respondus Monitor has a webcam feature for LockDown Browser that records students during online, non-proctored exams. When this feature is enabled for an exam, students are required to use a webcam and microphone with LockDown Browser.
Respondus Monitor Resource: https://web.respondus.com/he/monitor/resources/
---
Best Practices for Deploying an Exam in Respondus Monitor & Lockdown Browser
Do not turn on Force Completion. Because if anything is wrong with the browser or computer and students get exit, they can't go back to complete it although the time is not expired.
Use Set Timer and turn on Auto-submission. If a timer is set, turning Auto-Submit on will save and submit the assessment automatically when time expires.
Use Display After/Until date to show and hide an Exam instead of using Adaptive Release.
Do not use Password. When you enable Lockdown Browser in an Exam, Lockdown Browser will automatically generate a password which appears in the Blackboard EXAM OPTIONS for the exam (see the screenshot below.)  Please do not uncheck or change this password or you will break the settings for the Lockdown Browser and compromise the exam. Students do not need this password to enter the Exam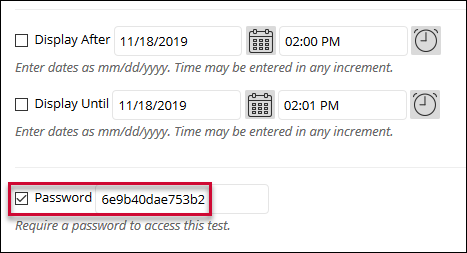 ---
Click Course Tools, and select Respondus Lockdown Browser.
Note:  If the "About LockDown Browser" screen is shown, click Continue to LockDown Browser.
Find the Exam you want to use Lockdown Browser, click the action link (Chevron icon), and select Settings.
For students to take an Exam with Lockdown Browser, select Require Respondus Lockdown Browser for this Exam button.
Note:  Do not setup password for students to access exam.
For students to record themselves with a Webcam, select Require Respondus Monitor for this Exam button.
In the "Startup Sequence" section, select a series of events students go through before beginning the exam with exception of Webcam Check and Facial Detection Check which are required. Do not select Environment Check (A U.S. district judge determined that scanning the room/environment is a violation of a student's privacy.)
Click Save + Close.
The Exam is shown with the requirement of using Respondus Lockdown Browser and a Webcam, for example, Chapter 1 Quiz (**Webcam**) – Required Respondus Lockdown Browser.
Highly recommend to do a practice exam:
Have the students take an ungraded practice quiz that requires the use of LockDown Browser and Monitor before the graded exam occurs. Leave the quiz available for the duration of the course, with unlimited attempts, so students can access it again if they use a different computer.