How to Use Blackboard Annotate – NEW ***
New to Blackboard, the Annotate tool allows an instructor to do inline grading for a Blackboard assignment.  Annotate offers a robust set of features to provide customizable feedback to students.  Features include a sidebar summary view, freehand drawing tools, various color sections, and much more.
Instructors can view and annotate these document files on the Grade Assignment page:
Microsoft Word (.doc, .docx) PowerPoint (.ppt, .pptx) Excel (.xls, .xlsx)
OpenOffice documents (.ods, .odt, .odp)
Digital images (.jpeg, .png, .tif, .bmp)
.pdf, .rtf, .txt, or .wpd
Bb Annotate is supported on current versions of Firefox, Chrome, Edge, and Safari. For the detailed browser information, click this link.
Bb Annotate Menu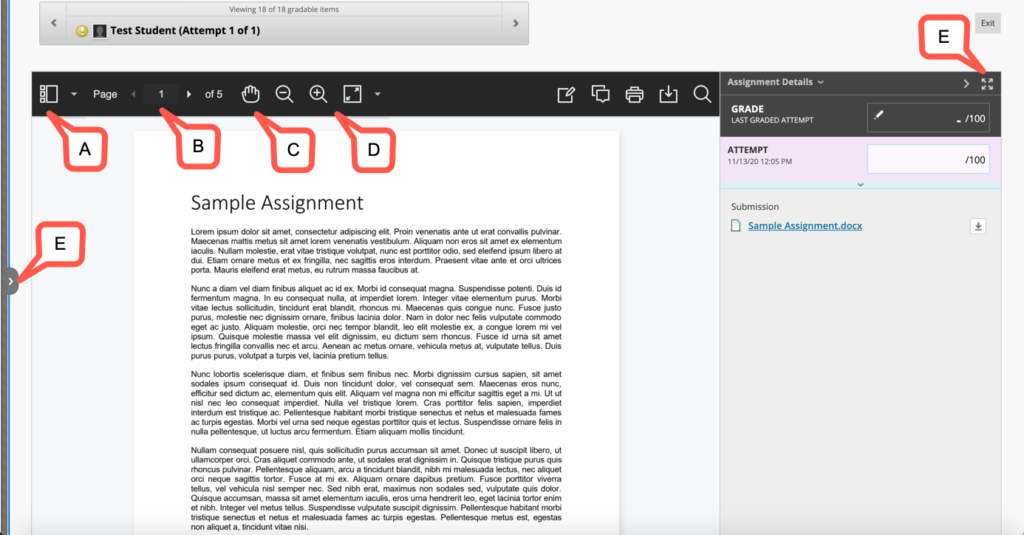 Document View Settings
A. Sidebar: View Thumbnail, Outline, or Annotation views of the submission.
B. Pages: Use the arrows to jump to different pages in the submission.
C. Pan: Move the submission on the page.
D. Zoom and Fit: Zoom in and out of the submission or adjust the view to fit the page, fit the width, or select the best fit.
E. Note that some of the toolbar items might be hidden if the window is too small. Try maximizing the window, using the fullscreen button, or hiding the blackboard side menu to have more space for the document.
Annotation Tools
F. Use these tools to draw, write, or place images directly on the document.
Drawing, Brush and Eraser – The drawing and brush tools allow you to freehand draw on the document using various colors, thickness, and opacity. You'll have the option to either erase pieces of the freehand drawing or delete by using the trash icon.
Image or Stamp – An image or stamp can be added to the document. There are a set of pre-loaded stamps or create your own customized stamp.
Text – You can add text directly on the page. There are additional options to move, edit and change the appearance of the text, including font, size, alignment and color.
Shapes – There are 6 options for adding shapes: Line, Arrow, Rectangle, Ellipse, Polygon and Polyline. Each option has its own customization settings to change the color, width, opacity, and more.
Comment Tool
G. Use this tool to place comments in the document to provide feedback. Comments will appear to the right of the document.