Respondus LockDown Browser Guide for Instructors and Students
Respondus LockDown Browser is a customized browser that increases the security of test delivery in Blackboard. When students use this browser, they are unable to print, copy, go to another URL, or access other applications. Once an assessment is started, students are locked into it until it's submitted for grading. This browser can be used on a student's personal computer or at the university's Academic Testing Lab.
For a complete list of features and demonstrations, visit the Respondus web site.
Students might not be familiar with Respondus LockDown Browser.  You can send students this Respondus Lockdown Browser Student Guide.
To set up Respondus Lockdown Browser for your exam/quiz:
In the Control Panel, click Course Tools, select Respondus Lockdown Browser.
Note: If the "About LockDown Browser" screen is shown, click Continue to LockDown Browser.
Find the exam you want to use Lockdown Browser, click the action link (Chevron icon), and select Settings.
In the "Lockdown Browser Settings" section, click the radio button Require Respondus Lockdown Browser for this exam.
Note: You do NOT need to setup password for students to access any exam which is held in UH CASA.
In the "Monitor Webcam Settings" section click the radio button Don't require Respondus Monitor for this exam.
Click Save+Close.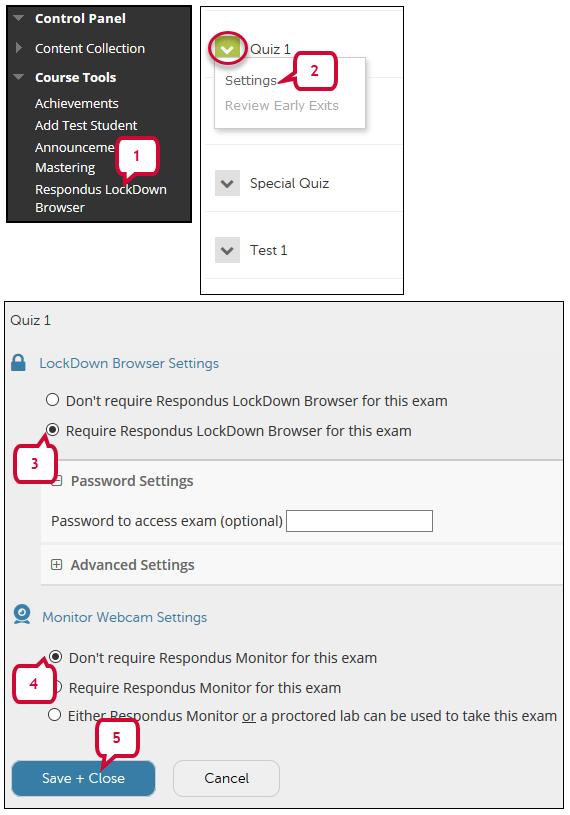 Important Note: The Lockdown Browser will automatically generate a password which appears in the Blackboard TEST OPTIONS for the exam (see the screenshot below.) Please do not uncheck or change this password or you will break the settings for the Lockdown Browser and compromise the exam. Students do not need this password to enter the exam. This password is only needed to set up the LockDown Browser.