How to Block Download from Videos on OneDrive
You might want to upload the videos into your UH OneDrive and share these videos with students.  If you don't want students to download the videos, you can use the following instructions which apply to other .mp4.
Important Notes:
If the videos were recorded from Teams meetings and saved in UH OneDrive, you can block downloading in the video sharing setting directly .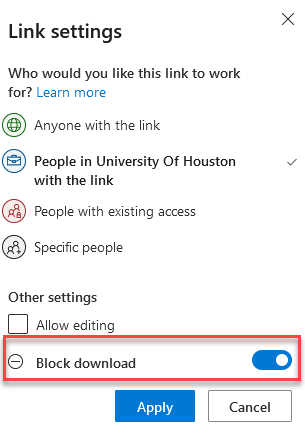 ---
Instructions:
Login your UH Microsoft 365. How to Log into UH Microsoft 365
Select the OneDrive If you do not see the OneDrive icon, select the App launcher icon first.
Click + New tab, then select Folder to create a new folder where you will upload the videos into.
Note:  If you have already uploaded videos into an existing folder, you can go to step 4.
Inside the folder and click the i inside a circle on the top right of the screen. Select Manage access.
Select Advanced
On the top left of the screen, select Stop Inheriting Permissions.
When a warning message "You are about to create unique..etc" is shown, select OK.
On the top left of the screen, select Grant Permissions.
Make sure the Invite people link is selected. Enter your Class Team name or email addresses in the first field.  Select your "Class_Teams_Name Members" from the drop-down option.
Note:  Type in your Class Teams name as it is shown on Teams.
Select Show Options.
Uncheck Send an email invitation.
Note: It will not send an email invitation to students if you use Class Teams.  You can share the link in UH Outlook or Blackboard Announcement later.
In the "Select a permission level" section, click the drop-down arrow and select Restricted view.
Click Share.
Go back to your OneDrive, click the folder.
Note:  If you only want to share a video file rather than the whole folder, click on the three dots by the file name and select Copy Link.
Inside the folder, select Copy Link.
In the "Link created" screen, select Copy. You can copy this link to UH Outlook, or Blackboard Announcement.
Note:  When you copy this link to UH Outlook, you might get a warning message "Some recipients don't have access to links in your message."  You can ignore it.