How to Create a Rubric for Turnitin Assignment
TurnItIn assignments allow for instructors to create rubrics that can be shared by different graders in the course. There are three rubric types:
Standard rubric – allows you to enter scale values and criteria percentages. The maximum value for the Standard rubric will be the same as the highest scale value entered
Custom rubric – allows you to enter any value directly into the rubric cells. The maximum value for the Custom rubric will be the sum of the highest value entered in each of the criteria rows
Qualitative rubric – allows you to create a rubric that has no numeric scoring
Part I.  Creating a New Rubric
Begin by setting up your assignment as usual, then follow the steps listed below.
Expand Course Tools and select "TurnItIn Assignments."
On the next screen, click the title of the TurnItIn assignment you want to work with.
From the TurnItIn Inbox, click the Libraries tab, and select "Rubric/Form Manager."
Click on the Rubric List icon in the upper left corner of the Rubric/Form Manager, and select "Create New Rubric". By default, the Standard Rubric will be displayed.
Edit the blank rubric by clicking on the name, criterion and scale to rename, add values, or add description. Click anywhere on the screen to finish editing each component.
To add extra criteria or scales, click the "+" sign. To delete a criterion or scale, mouse over the cell/field to display the trashcan icon.
Once the rubric is completed, click on "Save."
This new rubric can now be attached to the assignment.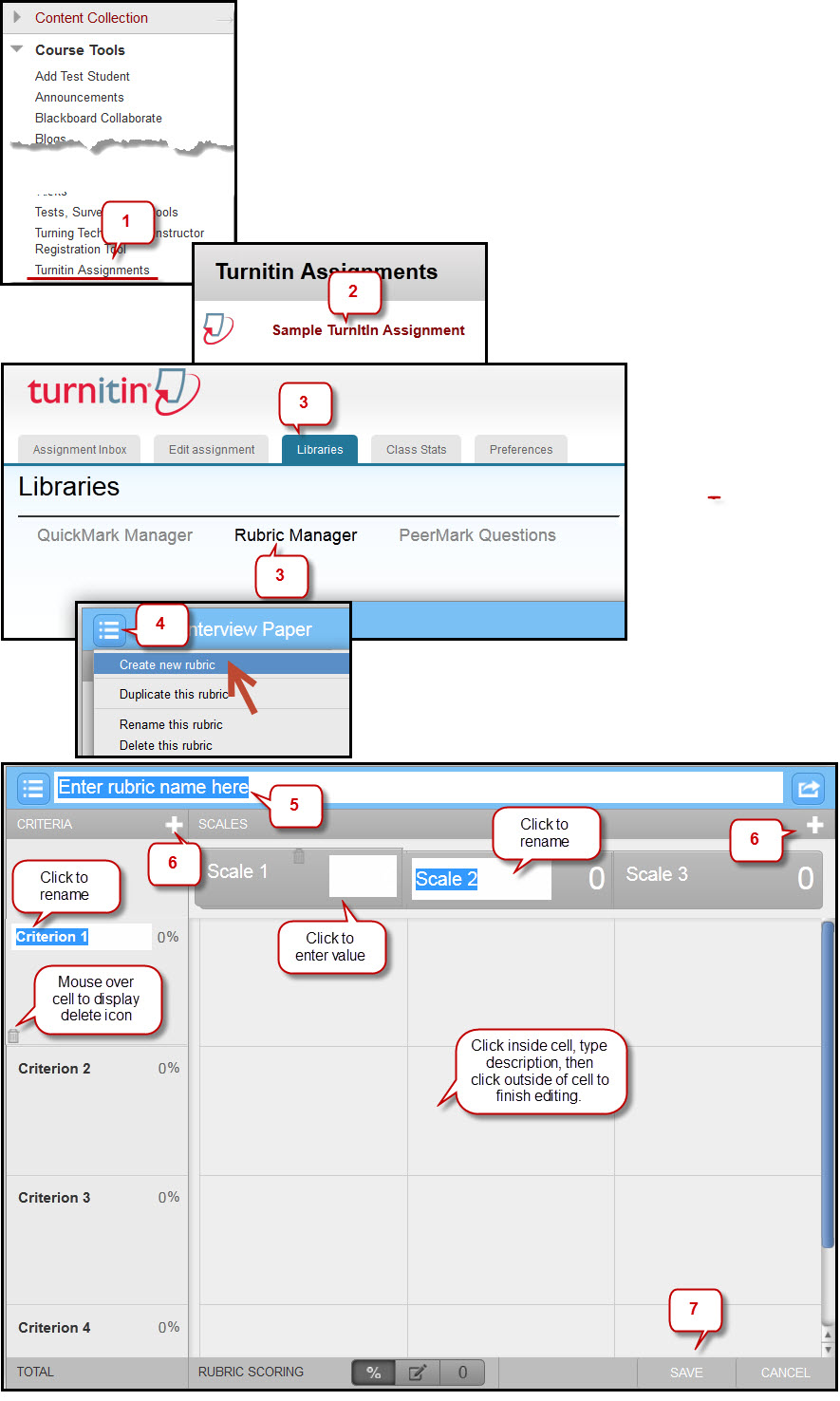 Part II.  Creating a Custom Rubric
Begin by following steps 1-4 from the preceding set of instructions.
Click on the pencil icon at the bottom of the Rubric Manager.
Enter name for the rubric.  Edit the blank rubric with the necessary text and values.  See image below.
Once the rubric is completed, click on "Save."